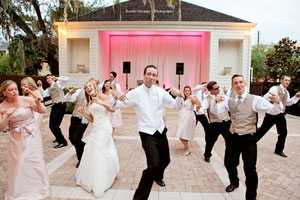 Your wedding day is one of the biggest days of your life.
According to the Bridal magazines the entertainment you hire is responsible for 80% of the success or failure of your reception. Whether it was in Orlando or not think about the last wedding you attended. What did you have to eat? What color were the flowers? What did the room look like? Do you remember all the details? Probably not. Now ask yourself this, did you have a good time? How much do you think the entertainment or more specifically, the DJ, contributed to the success or failure of that wedding? What is that worth to you?
Once the vows are exchanged and your photo session is done, your job is quite simple: Have a good time, relax, and enjoy yourself along with the rest of your guests!
When the professionals from Marc Burgess Productions are on the job, your DJ will coordinate all of the activities throughout the reception with your photographer, videographer, caterer, and of course, you!
"Brenda with Marc Burgess Productions - A++++
I loved Brenda! She was so great. She played exactly what I wanted. She even played songs that I love and I never told her about. She really figured out what I wanted just by talking to me for 30 minutes a few days before the wedding. She even came to ask me about a specific song that my cousin requested because she wasn't sure if I would like it. She kept everyone dancing and danced with us too! She was definitely one of my favorite vendors!" Katie Swithers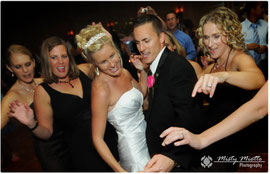 All of our DJs have outgoing personalities and are skilled in coordinating everything from the formal introductions to the last dance. We bring all types of music to your reception because you'll have all types of guests...from nieces and nephews to your grandparents.
We play your requests. Bottom line, we cater to you and your needs.
It is common in Orlando for the wedding ceremony and reception to occur at the same location. Don't forget to ask about having your Marc Burgess Productions DJ provide your ceremony music for you. Do you really want to take the risk of letting a friend, relative, or cheap and inexperienced DJ ruin the most important day of your life? Make your wedding day the best it can be. Contact us now to check availability and discuss how to make your dream day come true.