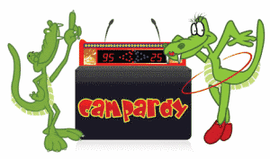 We know you may already be familiar with our Game Show Mania. If not, Game Show Mania is like having your very own version of a TV Hit Game Show with, literally, all the "bells" and "whistles". However, with Campardy we take it to a higher level.
This high energy activity combines some of your traditional camp games with Game Show Mania. The Game Show questions are grade appropriate from first grade to the high school level, which keeps the level of competition sharp. Not only does this help educate the participants, it is also a great confidence builder when they realize how much they already know.
After two rounds of Game Show, it's time to get physical with games like "Musical Hula-Hoop" or the "Sack Race"; then back to Game Show. This format keeps the program fast paced and the children interested in the activities. We also mix in a few dances like "Cha Cha Slide" or "Cotton Eyes Joe". Then we end the day with the famous "Water Balloon Toss"!
The program runs 2½ to 3 hours and all the children will go home with a smile on their face!!!
Marc Burgess Productions is an Approved Vendor per the Jessica Lunsford Act in our local school districts.