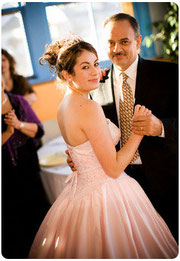 Marc Burgess Productions and our team of DJs are experienced in creating memorable Milestone events to commemorate special occasions including Bar/Bat Mitzvahs, Sweet 16s, Quinceanera and Graduation parties.   With a diverse blend of today's hottest music, as well as traditional and time honored classics, Marc Burgess Productions is Orlando's premiere DJ.
We have developed event specific timelines that can be customized for your specific milestone to ensure that we don't miss anything, including dances with parents, cake cutting, and other time honored traditions.
Enhance your package with additional lighting, and consider adding Karaoke or one of our Game Shows to your event!
"Jesse did a wonderful job! I think he was the best DJ we've ever had. He played what the kids liked and kept them in check when they were trying to "mosh". I really appreciate that! The kids said it was the "best dance ever". And when you can please 60 teenagers, you've done something. Thanks again for making Prom night a night to remember! "
Nancy Vann, First Academy.
Clients talk about their Orlando Mitzvah, Quincenera and 16th Birthday Parties