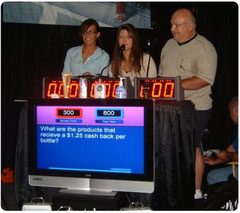 Our Game Show Mania options are the perfect way to build teams and create a fun and exciting atmosphere.  Whether as an addition to an Event, or a complete Game Show themed party, Marc Burgess Productions provides a wide variety of games to select from, with experienced and crowd-engaging hosts!
The Challenge (Jeopardy style)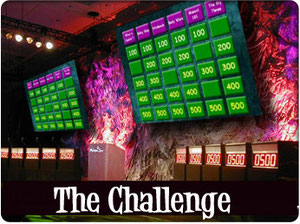 So you work with a bunch of know-it-alls...now is the chance to put their knowledge to the test! The Challenge is an ideal way to involve the team in a fun activity which can be used as a training program, morale booster, team building activity, etc.
Utilize our vast array of questions, or we can devise a program incorporating your products, services and company knowledge. From sales to operations, support and marketing - this is an exciting game and a big hit at events!
Fabulous Feud (speaks for itself)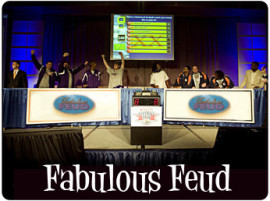 How well do you know your colleagues, company and culture?
Fabulous Feud is an adaptation of the long-running classic game show. Gently competitive, unexpectedly gripping and hysterically funny, match your team's minds to popular opinion in this corporate take on a classic family game show! It is perfect for interactive corporate events like sales meeting entertainment or trade show entertainment.
Want to let your team experience one of the funniest team building activities? If yes, then this comedy game show could be the answer!
All teams are presented with a survey item such as: 'What items would you take to the beach?' For extra interest, company-specific questions can be devised. This encourages collaboration and reveals the intriguing opinions staff hold about their organisation and its people.
The survey items will all have been used in surveys carried out among staff prior to the event. At least 100 answers are collected, and enough to generate at least six different responses. The teams have to guess the 'highest likelihood' answers, i.e. those given by the greatest number of people. This is an exercise which provides a fascinating insight into where company consensus really lies.
This is an excellent game for larger groups, 8-10 people can play per round-- over 50 people per hour!
Who Wants To Be A Game Show Maniac? (Millionaire Style)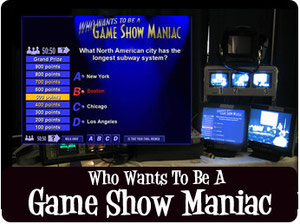 Play the game that America is still talking about.  This Multi Level game emulates Millionaire and allows you to create the questions and name the point values and prizes or use the installed questions!  We can design the game just like the real show or play our unique multi player mode. This allows many more contestants to participate.  Imagine up to 16 player positions instead of just one!  Any way you choose to setup the show, the contestants and audience will be impressed and will have fun.
Spin to Win!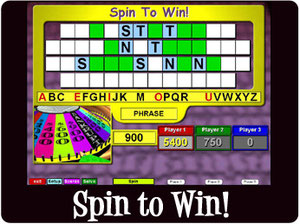 Everyone has seen Wheel of Fortune on television. This game is fashioned after that game and utilizes video and audio effects to create the same atmosphere. This is a computerized game projected onto large screen television or overhead projection so that everyone views the game board. Categories and phrases are input prior to the show.  To keep the game interesting there are also bankrupt areas, loose a turn areas as well as prize and free spin rewards.
Phrases and categories can be tailored to include phrases or terms relevant to your company, product line or profession.