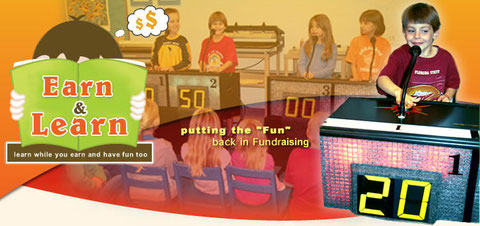 Call us right now to find out how your next fundraiser can make as much as $25,000.00 Dollars or more for your school or organization in ONE afternoon! and No Candy to count!
Also imagine your students enjoying themselves and learning their curriculum while they earn money for your school or organization!
The Earn and Learn Staff at Marc Burgess Productions will explain how the scoring system works and show the participants how to sell the sponsorships to their family and friends. Imagine getting donations from parents who say "Thank you for not having me buy overpriced candy, candles, wrapping paper, etc".

Parents will appreciate the fact that you are promoting their children's education and not promoting tooth decay.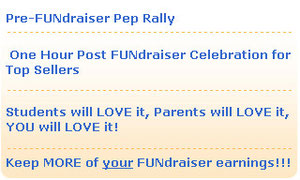 Our Staff will be happy to meet with your School, PTA's or organization so we can set you up with everything you need:
* Sponsorship Forms
* Advertising Posters
* Schedule the Pre-FUNdraiser Week-Long Kick-Off
* Scheduling the day of activities

In our schools history we have never had a fundraiser that was a financially successful as this concept was...$18,900.00 will go along way to help our school grow!
Pamela G.
(PTA President, Meadow Woods Middle School)

Finally we counted something other than candy! Money and a lot of it! Thanks Earn and Learn for helping our school raise over $20,000 and we were shocked as to how well the kids paid attention and learned. It was a very entertaining afternoon as well. It was great seeing the results of our efforts in our bank account and not going back to a company.
Sheila O.
(Officer Parents for Progress, Joplin Missouri School District)

Earn and Learn Staff: Being a social director for a church is not an easy thing, and when asked to chair the fund raising portion for 2006-2007 I was overwhelmed, your staff handled everything with our "Bible Trivia night" and it was done with class, and was quite entertaining too. We will use you again and again, and we would like to incorporate your game with our Sunday School classes also. By the way we raised over $9,000.00 dollars and that sure beats a cake sale.
Marianne C.
(Goodwill Methodist Church)