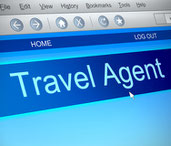 It's so easy to go online a book your own flight, hotel and rental car, so is there any reason to use a travel agent when planning your honeymoon or next vacation? Absolutely! Consider these five benefits travel agents provide leisure travelers:
1. Save time and money. You can spend hours on your computer trying to find the best deals and coordinate your schedule – or you can let a travel agent do the work for you. And the travel agent may find better prices than you can.
2. Special deals. Travel agents often have access to information about promotions and packages not available to the general public.
3. Troubleshooting. If something goes wrong while you're on your trip, your travel agent can step in. When you book online, you don't have that personal connection.
4. Recommendations. Travel agents are also travel enthusiasts. Chances are, your agent has been where you're going and has the experience and knowledge to help you plan a trip that will meet your needs and budget.
5. Bonuses. Travel agents can often score perks for you that you couldn't get for yourself, such as a room upgrade or fee waiver.
6. You actually get the vacation you want. All too often when people book their travel on the internet, they get the cheapest thing out there. This may not actually be the best option for you. Your travel agent will take the time to get to know you and make sure that the honeymoon or vacation you book will be exactly what you want.