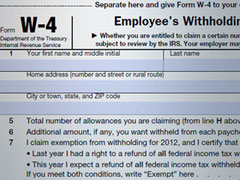 After the excitement, fun and romance of your wedding and honeymoon, you'll have to get back to the real world. That's where, along with writing thank-you notes and choosing which wedding photos you want to frame, you should consider the impact of your marriage on your tax status.
As one of Orlando's most popular wedding DJ providers, we know more about receptions than taxes, so we checked with the IRS and found these tips for items you should add to your after-the-wedding task list:
• Name change. The names and Social Security numbers on your tax return must match your Social Security Administration (SSA) records. If you change your name, report it to the SSA using Form SS-5, which you can get on SSA.gov.
• Change tax withholding with your employer. You must give your employer a new W-4 when your marital status changes. If you and your spouse both work, your combined incomes may put you in a higher tax bracket, so be sure you are both having enough – but not too much – withheld from your wages.
• Address change. If you move after the wedding, file a change of address notice with the IRS.
• Change in filing status. Be aware that if you're married as of Dec. 31, that's your marital status for the entire year for tax purposes. Whether you and your spouse file jointly or separately is a decision you should make after consulting with a qualified tax advisor to determine what is best for you.
The IRS suggests that newlyweds also conduct a health insurance review. This is important for a wide range of reasons, but particularly if you're receiving premium assistance through advance payments of the premium tax credit through a Health Insurance Marketplace. If you, your spouse or a dependent gets health insurance coverage through the Marketplace, you need to inform the Marketplace about your change in circumstances so you can make sure you have the right coverage and your health insurer is receiving the correct amount of advance credit payments.
Getting married also gives you and your spouse the opportunity to sign up for health care during a special enrollment period (in most cases, 60 days from the date of your wedding).
I want to stress that we are experienced, popular wedding DJs in Orlando – not tax specialists. If you want to talk about how we can help you have the wedding and reception of your dreams, call me. If you have any questions about the impact of your marriage on your tax circumstances, please consult with a qualified professional for guidance.