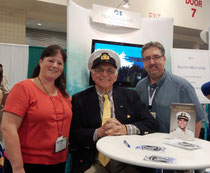 Whether you're planning your honeymoon, an anniversary celebration, a reunion or a no-special-reason vacation, consider a cruise. At Burgess Travel Network, we are proud to have earned the prestigious Accredited Cruise Counselor designation from CLIA Cruise Academy. This means we have completed a rigorous training program of seminars, online courses and exams, and experience, and have proven our ability to assist our clients with their cruise travel plans.
As education goes, we admit that it wasn't all hard work – CLIA's certification programs require cruise counselors to have a significant amount of personal cruise experience. And what better way to gain the product knowledge necessary to help you choose the right cruise than to take those cruises ourselves?
Consider these great reasons to cruise:
• Cruises are an excellent value for your travel dollar. The fares include nearly everything — accommodations, food, entertainment and transportation between destinations. And the cost per person per night is almost always far less than you'd spend on land for a hotel, dinner and show.
• See multiple locations without having to pack and unpack. Your floating hotel room lets you wake up in a new place every morning without hauling out your luggage or dealing with transportation schedules.
• From the age perspective, most cruise ships are family friendly and have something for everyone. Facilities and activities are organized by age, so the little ones have safe places to play, the teens have cool hangouts, and the parents and grandparents have their own entertainment.
• Ships offer a wide variety of onboard activities to keep everyone happy. The kids can play sports or swim while you pamper yourself in the spa. Enjoy exotic foods or simple, traditional meals. Take a class, work out, shop, spend time in a casino – or just do nothing.
• Visit exotic destinations that you've always wanted to see. Cruise lines make it easy to tour unfamiliar places in a way that is safe and secure.
• Cruising is social and so romantic. You'll have the opportunity to meet new people that often become lifelong friends, as well as enjoy the special environment that sets the mood for romance.
Whether you're just thinking about what to do on your next vacation or you're ready to book your cruise, call Burgess Travel Netowrk at 407-322-8884 today. We're ready to make sure your cruise is everything you want and more.
To keep up with all of the latest, be sure to "Like" our Facebook Page.