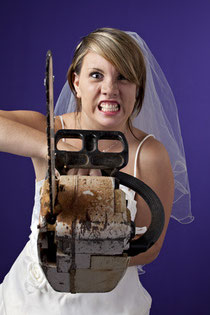 Let's get the disclosure out of the way first: Just in case you can't tell by browsing around my website, I am a professional DJ. I own a company that provides professional DJs for weddings, parties and corporate events in the Orlando, FL area.
I also live in the real world on a real budget and I have real friends who often do for fun what others do for a living. And those hobbyists are often quick to offer their services: "You're getting married? Let me do the [whatever] for you!" I understand why there are times you're tempted to use an amateur to provide a service such as emceeing, catering, photography, flowers and so on. You don't want to hurt their feelings and you'd like to save money.
With that out of the way, let's have an honest discussion about the difference between amateurs and professionals, and when you can take a chance on an amateur and when you must use a professional.
For our purposes, let's define amateur as someone who does the work as a hobby without compensation because they love doing it and a professional as someone who does the work as a business for compensation.
When you use a professional, you have (or at least should have) a contract that completely spells out the details of your agreement. Part of choosing a professional is doing your homework to make sure that they have a reputation for quality and reliability, and professionals are ready to show you proof that you can count on them. If your friend's cousin is offering to do something for free, you might not feel comfortable asking for references.  
When you use an amateur, you have no recourse if the job doesn't get done right – or even at all. Sometimes that's important, sometimes it's not. Consider:
·         A friend prepares food for your wedding reception, and within an hour after consuming it, your guests begin to get sick.
·         A friend offers to make table favors for your party, but for whatever reason is unable to deliver and doesn't bother to tell you.
In the first scenario, you've got some serious issues that could possibly even reach the life-threatening and/or lawsuit stage. In the second, there's an excellent chance that most of your guests won't even notice.
The more it matters, the more important it is to use a professional who is skilled, experienced, insured and has the proper equipment and contingency plans.
Let us know in the comments below if you have ever been a guest at a wedding where one of the services was done by a friend/relative and if it was a bad choice by the bride and groom (you can leave names out to protect the...well, you know.)