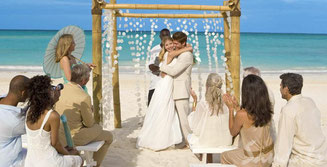 Every couple wants a wedding that's a special reflection of who they are and their unique relationship. Sometimes that means heading out of town to get married – a strategy that also lets you combine your wedding and honeymoon into one great trip: a weddingmoon.
If you're thinking about a destination wedding, here are some points to keep in mind:
• Location, location, location. The destination you choose sets the tone for your entire wedding. It's more than just the place for the ceremony, it's all the other available activities as well as the general ambiance. And, of course, you need to consider travel, time and budget.
• Timing. Two key issues related to timing are seasonal issues at the destination and giving your guests sufficient notice to plan their schedules so they can attend. Choosing a date during the high season means higher rates and fewer choices in terms of venues. Off season means lower rates and thinner crowds, but you may find the weather iffy and many of the local shops and attractions closed. Whatever you choose, give your guests plenty of time to schedule their time off from work and book their flights and hotel accommodations.
• Planning trips. Take at least one and ideally two or three trips to your destination to visit and secure venues and local service providers. Research local marriage requirements to be sure you can legally tie the knot there.
• Check out your suppliers. It's always important to do your homework on suppliers, no matter where your wedding will be. This is where a good Travel Agent can help. They know the reputable suppliers and have already built relationships with them.

• Alert your friends and family. Tell people about the destination before you issue the invitation or ask them to be a part of the bridal party. This gives them the opportunity to gracefully decline if they can't make the trip for any reason. And don't be hurt if they can't attend; they may not be able to afford the cost or time off work.
Now for the unabashed self-promotion:
If you are planning a destination wedding in Orlando (Central Florida) and want a professional DJ for your reception, the DJs at Marc Burgess Productions will work with you in person, on the phone and via video call to make sure you have the wedding of your dreams. We've got plenty of references for you to check.
If you live in Central Florida and are considering a destination wedding elsewhere, our travel planning professionals are standing by to help with every detail from choosing the location to the travel arrangements to making sure everyone gets home on time.