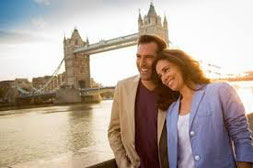 Let's start with a bit of trivia: Why is the post-wedding trip called a honeymoon? The internet is rich with explanations. One that I like goes back to the 5th century AD, when it was common practice for newlyweds to liberally consume mead, a honey-based alcoholic drink known for its aphrodisiac properties, during the first month (or moon) of marriage.
Today's honeymoons range from short and simple to long and elaborate, depending on the couple's preferences. Whatever you choose, these tips will help:
• Set a budget. Before you consider anything else, decide how much you can spend. Then don't allow yourself to fantasize about trips you can't afford so you won't be disappointed. Because many couples don't need traditional household items as wedding gifts, a popular trend is for family and friends to contribute to the cost of the honeymoon. Click here for details on creating a honeymoon registry.
• Share your ideas with each other. Talk about where you'd like to go and why. Consider the experiences of others. Browse around the internet. Then narrow it down. Make sure you choose a destination that you'll both enjoy.
• Choose a travel agent. Click here to read my article on why you should use a travel agent to plan your honeymoon. Along with the actual trip issues such as hotel and transportation, a travel agent will help you with other planning details, such as what to take, what sort of documents and vaccinations you'll need for international travel, and other tasks that need to be done before you leave.
• Decide on the timing. Sure, romantic movies often show the bride and groom racing off from the church or reception in a shower of rice to board a plane or ship, but you may want some rest between your wedding and your honeymoon. As a professional Orlando DJ, I see first-hand how exhausted couples are after the wedding. Some couples leave the next day, others wait a few days, still others may wait a few weeks or months. Do what fits your schedule and works best for you so that you get the most pleasure from this very special trip.
• Make arrangements for kids and pets. Bridal couples who have children need to decide if they want to make the honeymoon a family event or if they want to leave the kids behind. If the kids are staying home, you need to plan ahead for reliable child care. If you have pets, be sure to make kennel or pet-sitter reservations so your non-human family members are safe and cared for while you're gone.
What other advice can you offer about honeymoon planning? Please share your tips below.