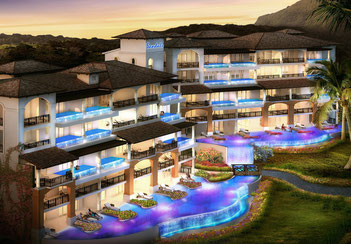 At Marc Burgess Productions, we think the only way to make a perfect wedding more perfect is to follow it with the honeymoon of your dreams. That's why our Burgess Travel division is available to help you plan a romantic honeymoon that will be a memory you'll cherish forever.
You may be thinking that with all the online travel resources out there, you can arrange your honeymoon yourself – and, of course, you could. But here are some reasons to plan your honeymoon using the services of a knowledgeable travel agent:
• Save time. The average packaged-travel purchase occurs after 38 visits to various websites. Many of those sites can be challenging to navigate, and then you have to remember what you saw where and how to get back to it once you've made a decision. Experienced travel agents know where to look for exactly what you want – and that lets you spend your time thinking about how much fun you're going to have instead of trying to find the online resources you want.
• Save money. Of course, time is money, but a good travel agent can also save you cash out of pocket by getting you the best prices on the trip you want. They know, for example, when an advertised price isn't the real price, and they'll guide you in the right direction so you get the best value and stay within your budget.
• Peace of mind. Doing it yourself can be fun when everything goes right – but what about when things go wrong? Consider what you'll do in the case of canceled flights, transportation strikes, overbooked hotels or any of hundreds of other unforeseen problems that could disrupt your honeymoon. This is especially important if you've got a complex itinerary that includes multiple exotic destinations. A travel agent knows what to do and is there to help when the unexpected happens.
• Personal relationship. No matter how user-friendly a website is or how much of your individual information it's programmed to remember, nothing replaces a true personal relationship with a travel agent who gets to know you and is genuinely committed to making your trip wonderful. More than ever before, travel agents are valuable partners in trip planning.
Call us today for more information about how Burgess Travel can work for you as you plan your wedding and honeymoon. Be sure to share this on Facebook by clicking the button below.