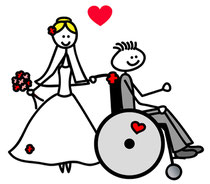 If you're hosting an event – a wedding, party, corporate event, or something else – chances are good you'll have some guests with special needs. As professional DJs in Orlando, we've seen the situations handled with grace and tact – and we've seen them become a serious embarrassment for the hosts and inconvenience (or worse) for all. Our advice is to plan ahead for these issues so they don't disrupt the flow or ambiance of your event.
Some tips:
• Accessibility. Most public venues can accommodate individuals with mobility issues or who in a wheelchair. However, this can be a challenge in older facilities that may not meet the current standards of the Americans with Disabilities Act (ADA) and when events are held in private homes.
The issue of accessibility goes beyond just getting through the door and navigating the interior (like the bathrooms or weaving through guest tables to get to their seat). Keep parking in mind as well. For example, many great downtown venues are blocks away from the nearest garage.
Consider accessibility when selecting your venue. If necessary, personally contact any guests who may need assistance ahead of time and let them know what to expect and the best way to access the facility.
• Other physical issues. In addition to those with limited mobility, you may have guests with other impairments that you'll want to accommodate. In most cases, awareness and some simple advanced planning will be sufficient to make the event pleasant for all.
• Dietary preferences. It's impossible to take every dietary preference into consideration, but you can deal with the most common ones. For example, it's common to offer a choice of meat and/or poultry, fish and a vegetarian option when serving a formal meal at a banquet. Ask your guests to indicate their selection on the RSVP card.
If you're serving buffet style, the process is easier because your guests will simply choose what they prefer from the serving table. Your caterer can help you plan the quantities of each item based on what they typically see consumed and your own assessment of your guests.
• Allergies and sensitivities. Beyond simple preferences is the issue that some foods and other items can cause a physical reaction ranging from minor to life-threatening. While it should be the responsibility of the individual to alert a host of such a condition, it's also a good idea for you to be proactive. The most common food-allergic reactions are caused by peanuts, tree nuts, milk, eggs, wheat, soy, fish and shellfish. Also, an increasing number of people are following a gluten-free diet due to Celiac disease, gluten-sensitivity or just personal preference.
This issue is not limited to food. You may have guests who will be negatively affected by fragrances or even fresh flowers and live plants. Certainly it's your event and you can do what you prefer, but these are things to keep in mind as you plan.
The best way to identify and accommodate your guests' needs is to ask. You can either do it as part of the response or make a personal contact and simply say, "We're looking forward to having you with us. Do you have any food allergies or other issues we should know about ahead of time?"
With some advance planning and communication, your special needs guests will be comfortable and feel welcome at your event.