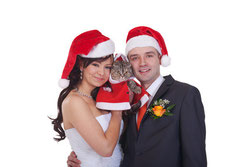 The winter holiday season generally kicks off in late November with Thanksgiving and lasts through the New Year. It's a busy, often-chaotic time – and it will be even more so if you've chosen to get married.
Of course, there are plenty of good reasons to schedule your wedding during the holidays. It may be the most convenient time for your family and friends to get together to share your joy or there may be a date during that period that's special to you. Whatever your reason doesn't matter. But there are some things you should keep in mind if you want to tie the knot at this time of year.
• Choose your venue early. The best and even not-so-great venues get booked well in advance, so get your wedding and reception locations under contract as soon as possible. Remember that the weather in Central Florida is generally balmy in December, so you can usually schedule an outdoor wedding and know you and your guests will be comfortable.
• Send your save-the-date notices. Just as the venues get booked, so do the calendars of people. As soon as you're sure of the date (usually that's when you know you've got a location), send your save-the-date cards so family and friends can avoid scheduling conflicts.
• Book your DJ, church musician, other entertainment, caterer, photographer, etc. as soon as possible. The professional DJs at Marc Burgess Productions are booked for the holidays well in advance. Most of the other services you're going to need are likely to be busy this time of year as well.
• Take advantage of holiday decorations. Choosing a venue that's already decorated for the holidays can make your own decorating efforts much easier. In fact, you may be able to get away with providing little more than your own flowers. However, you may want to check with the venue to find out how it will be decorated before you choose your own colors and decide on additional items.
If you like the ideas in this article, please give us an early holiday gift and share it with your friends. There are a bunch of buttons below that make it easy for you.