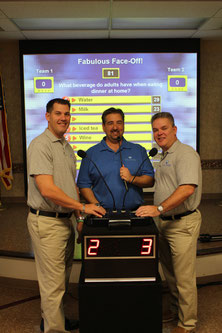 It may still feel like summer in Central Florida, but it's time to be thinking about your company holiday party. And if you're looking for something new and different, consider one of the Game Show Mania options from Marc Burgess Productions.
Annual holiday corporate gatherings may be beloved or dreaded – or both. They may be for employees only or include family members and/or customers. Whatever description fits yours, you can make it memorable for all the right reasons when you let us create a fun and exciting atmosphere by playing games based on your TV favorites. These familiar games encourage interaction between people who may not know each other, promote team-building, boost morale and provide a range of other benefits that will last long after the buffet is forgotten.
Our professional DJs and equipment keep the energy level high and engage even the wettest wet blankets and sourest sourpusses. Your game show choices include:
The Challenge – a Jeopardy-style game that lets participants put their knowledge to the test. We have a comprehensive inventory of questions or we can develop a customized program that incorporates your products, services and company knowledge.
Fabulous Feud – an adaptation of the popular Family Feud that encourages collaboration even as it reveals often-surprising opinions about your organization and its people.
Who Wants to be a Game Show Maniac? – another adaptation of a popular TV show that everyone enjoys playing or watching. You can create your own questions and point values, or use the installed questions.
Spin to Win – this one is based on Wheel of Fortune and uses audio and video effects to create the same exciting atmosphere.
Our professional DJs and game show equipment are already being booked for events in December and beyond. Check out the Game Show Mania page on our website and call us now to schedule your event.