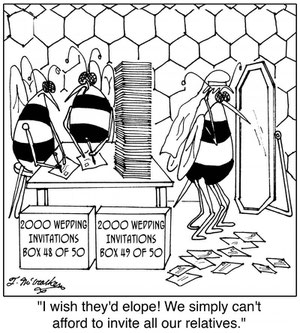 Weddings are expensive. When I'm talking to Central Florida couples about providing professional DJ services for their special day, the conversation often turns to ways to save money but still have the wedding and receptionof their dreams. If you're planning a wedding or even a party, these tips can help keep the cost down:
• Set your budget and rank your priorities. Decide how much you can afford first, and then allocate your funds. Think about what's most important to you and budget more for those items. Be willing to forego the things that don't really matter to you.
• Be ruthless with your guest list. Keeping the number of guests down is the best and easiest way to keep your costs down.  When I was planning my wedding one of my friends gave me some great advice. If you must trim your guest list, ask this question; "Have you ever been in their living room or have they ever been in yours?" If the answer is No, you need to decide if they really must be on your list.
• Shop for the right venue. Hotel banquet facilities are beautiful but costly. Read my article on Orlando DJ's Advice on Affordable Wedding and Party Venues for budget-minded suggestions.
• Choose a date during an off-peak time. You can negotiate a better price when venues are hungry for business. Off-peak times for weddings in Orlando are typically January and February (except for Valentine's Day) and July and August (If you choose to do your wedding in the summer keep your guests comfort in mind and do an indoor ceremony). Also, consider any day of the week except Saturday, which is the most popular day for weddings. Again, when there are fewer prospective customers, you have more negotiating power.
• Don't do a traditional sit-down meal. Some of the ways to save on food at the reception include: serve a brunch or lunch rather than dinner; if you want a meal, eliminate a choice of entrée and/or serve an inexpensive dish such as chicken and pasta; don't do a meal at all, just serve cocktails and cake (or punch and cake); or, for a less formal atmosphere, do a potluck reception.
• Keep the cake small. Make the official wedding cake – the one that's beautifully decorated that you use for the cutting ceremony and pictures – small. Then have sheet cakes in the kitchen to serve to your guests.
• Choose one kind of in-season flower for all your bouquets and arrangements. Not only does this provide visual continuity, it lets the florist place one bulk order, which is less expensive than several smaller orders for a variety of blossoms. Also, consider the design of your bouquets and tabletop floral decorations; keep it simple to save on labor costs.
• Take advantage of the talents of your friends and family. Anything you can make yourself or with loved ones – such as the invitations, programs and favors – will be a fun activity that's more meaningful and personal than if you just purchased those items. And when it comes to favors, remember that edibles are the most popular and appreciated. Bake a few batches of your favorite cookies and put them in small bags or boxes for your guests to take home.
• Don't be shy about negotiating. Let the vendors and service providers know what your budget is and that you're going to stick to it. I'd rather get that number up front so we can plan realistically than waste a lot of time talking about DJ and entertainment options that are outside of your budget.
I'd love to hear your ideas on where you found to save money on your wedding. Tell me about it below.