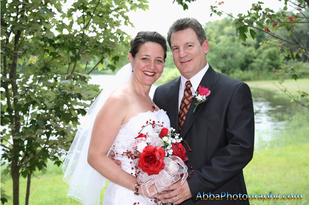 According to TheKnot.com, the average wedding costs $27,800, but our professional Orlando DJs regularly entertain at beautiful weddings that are far less expensive. You don't have to spend a small fortune to have the wedding of your dreams.
The cost of wedding and party venues can run anywhere from a few hundred to thousands of dollars. If you're shopping for a location for your wedding, reception or another type of event, consider these suggestions for affordable options:
• Public parks. Central Florida has an abundance of public parks that can be rented for private events for a nominal fee. If you find a place you like in a public park, contact the appropriate parks department for information about reserving the space, getting the necessary permits and details about applicable regulations. As you plan your outdoor wedding, be sure to keep my article "7 Tips to Make Your Outdoor Wedding Perfect" in mind.
• Small specialty venues. Our favorite, The Secret Garden is both beautiful and affordable.
• Garden clubs. Many of the garden clubs in Central Florida have facilities that are appropriate for small to medium-sized weddings.
• Community clubhouses. Many residential communities (apartments, condos, single-family homes) have clubhouses available to residents for a minimal fee.
• Local government facilities. Many cities have lovely event venues at affordable prices. For example, the Bettye D. Smith Cultural Arts Center in Sanford can accommodate up to 115 people for weddings and other events in a beautiful, fully-restored historical building. 
• Churches and church fellowship halls. Most churches allow non-members to use their sanctuaries and fellowship halls for weddings and receptions. Rates and policies vary.
• Private homes. The professional DJs at Marc Burgess Productions have provided entertainment services for some stunning weddings at private homes in the Orlando area, both indoors and in the backyard. If your home is too small for the wedding you want, consider asking a friend to let you use theirs.
Keep in mind that parking may be limited at many of these locations, so you may need to make alternative transportation arrangements for your guests, such as shuttling them to and from an available parking facility. You'll also want to consider noise issues, particularly in residential areas.
While the venue itself may be less expensive than a hotel or upscale restaurant, you may have to provide some of the equipment and supplies (such as tables, chairs, linens, etc.) yourself. It's also likely that you'll end up doing more of the work in terms of preparations and clean-up. Find out what is and isn't included in the rental fee before you make a final decision.
As professional DJs, we have years of experience working weddings and other special events all over the Orlando area. We're happy to share our thoughts on the venue(s) you're considering. If you have your own ideas or favorite rental facility, please share in the comments below.