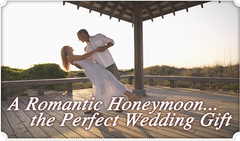 Recently I shared my advice on what to do now that you're engaged, based on my experience as an Orlando wedding DJ. If you're newly engaged, something else you'll want to think about very soon is wedding gift registries. These tips will help make that process more efficient.
Don't rush.The etiquette experts say it's perfectly acceptable to register for gifts as soon as you are officially engaged, but be sure you're registering for what you want and need. Make a list of what you both already have and plan to keep as well as the things you don't have and would like. Don't feel bound by tradition – if you don't care about formal entertaining, don't register for crystal, china and silver that you'll never use. Decide on color schemes and patterns before you set up your registry lists.
Evaluate each registry before deciding. Find out how each registry works and what perks the stores offer before you decide where to register. For example, how long will the registry list remain active after the wedding? Will the store let you buy items you don't receive at a discount? Will the store ship to any address you designate to save your guests the hassle of doing it themselves? Does the store have a registry specialist who will help you or are you on your own?
Register in more than one place. Give your guests some choices by registering in two to four places. To avoid the possibility of signing up for the same item at different stores (resulting in the chance of duplicate gifts), don't let the items on your lists overlap – for example, register for linens at one store, for dinnerware at another, and for gifts related to your honeymoon at another. Also, be sure you include items in a range of prices so people can choose gifts they can afford.
Finally, remember that it's never appropriate to ask for gifts, so don't include gift registry information with your wedding invitations. If you will be having a shower, the host (not you!) can include registry details in the invitation. If you've set up a wedding website, you can add it there, as well. Send thank-you notes for gifts received before the wedding within two weeks of arrival; you have a month after returning from your honeymoon to thank people for gifts received at or after the wedding.
At Marc Burgess Productions, we are committed to helping you have the wedding and honeymoon of your dreams. Our professional Orlando wedding DJs are the best in the area and our Travel Services will help you plan a wedding trip that you'll remember forever. Call for a consultation today.