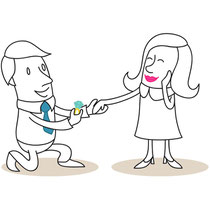 The two most popular times of the year to get engaged are around Christmas and Valentine's Day – which is probably why there's been a bridal show just about every weekend since the beginning of the year.
If you're newly engaged, congratulations! As a leading professional wedding DJ in Orlando, I've had plenty of experience working with couples during the wedding planning period. So if you've hit information overload and aren't sure where to start, let me help.
• Choose the date. The most important issue to consider is a date that works for you, the bridal couple. But you also want to be sure the officiant of your choice is available and that the date also works for the close family members and friends you'll want in the wedding party. Along with choosing the date, you also need to choose the time of day for your ceremony and reception. Around the majority of the country, summer is the busy wedding season. Here in Florida, it is hot, humid and it rains alot during the summer. Keep that in mind if you are planning an outdoor ceremony or reception. Some wedding professionals also have lower rates in the summer because it is considered the "slower season" in Florida.

• Find and reserve your location(s). If the ceremony will be in a house of worship, be sure to get on the calendar – and find out if anything else is happening that day that could affect your wedding. If the ceremony and/or reception is to be in another place, get the venue under contract. This means paying a deposit and getting a document confirming your reservation.
• Send save the date cards. You may not have your full guest list at this point, but send out save the date notices to the people you're sure you'll be inviting. Refrigerator magnets are a great idea for this.
• Book the people/companies providing key functions. As soon as you have the date and location, choose and get a contract with a caterer, photographer, wedding DJ, entertainment, videographer, florist, wedding coordinator (if you choose to have one), and so on. Remember that the best service providers are usually booked well in advance, so don't wait until the last minute. Be sure to download and ask these 8 questions before you make a selection.
• Plan your honeymoon. That first trip you take as a married couple should be special, so give it the attention it deserves. But be practical – make your reservations early for the best pricing and availability. This honeymoon questionnaire will help. We also own a Travel Agency and would be glad to help you with your honeymoon planning.

Of course, this is not a complete list, but it will get you started. And I'm ready to talk with you at your convenience about providing a talented professional Orlando wedding DJ for your special day.