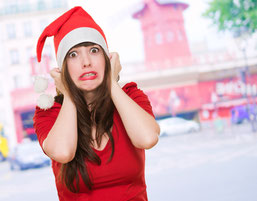 "It's the most wonderful time of the year …" Or so the song lyrics go. But you could argue that it's also the most stressful. As a professional DJ in Orlando, I know how chaotic things can get between Thanksgiving and New Year's. Certainly it's the busiest season for Marc Burgess Productions – we're booked solid with holiday parties and weddings.
We've seen more than our share of melt-downs by party planners and brides – especially in December. Something we've learned over the years that I want to share with you is this:
Don't let stress take the joy out of the season!
For some of you, I know that's easier said than done. These tips may help:
1. Don't over-commit. Don't schedule more than you can reasonably do. It's okay to say no to invitations or to requests for volunteer tasks. Agree to only the things you can comfortably and happily do.
2. It doesn't have to be perfect. It's natural to want things to be perfect down to the last detail – whether it's a perfect party, a perfect wedding or a perfect gift. Perfectionism will drive you crazy! Whatever you're doing, it doesn't have to be perfect – it just has to be meaningful and fun.
3. Take care of yourself. Put your own wellbeing at the top of your priority list. Get plenty of rest and adequate exercise. Eat as healthy as you can, but don't beat yourself up over a few culinary indulgences. If you don't feel well, don't ignore your symptoms and just soldier on – figure out what's wrong and deal with it (even if it means taking the time to go to the doctor).
4. Set a budget and stick to it. Spending more than you can afford will only turn what should be happy holiday memories into a financial hangover in the New Year. Put together a realistic budget for gifts, clothes, entertainment, travel and other holiday extras. When you hit your limit, stop buying.
5. Let others help. You don't have to do everything yourself. Even Superman has a support team. Don't be shy about asking for help when you need it. Even when you probably could have handled whatever you're doing alone, it will be more fun when you share.
Those are my tips for de-stressing the holidays. Do you have any to add? Please share them by commenting below.