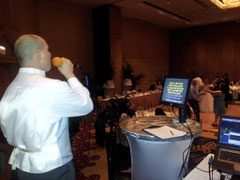 Just about everyone has at least one funny karaoke story to tell, and professional DJs in Orlando have more than most people. If you really, really enjoy this type of entertainment and are considering it for your reception, recognize that there's a big difference between karaoke night at your favorite bar and karaoke as part of your wedding celebration.
Some points to keep in mind:
• At a traditional reception, there's a lot going on: the couple's first dance; the father/daughter and mother/son dance; other dancing; toasts; bouquet and garter toss; cake cutting; photographs; and dinner. Will you have time for karaoke?
• Karaoke takes the spotlight off the bride and groom and turns it on the individual singers. Is this what you want your guests to remember?
• Some people are very talented karaoke singers; others are awful. Do you want to try to control the quality of the performances?
This is not to suggest that you shouldn't have karaoke at your reception if it's what you really want – just be sure you really do want it.
In my experience as a professional DJ in Central Florida, karaoke works best for more casual events such as rehearsal dinners/parties and receptions for second weddings that will not include a lot of the first wedding traditions. Of course, the choice is yours – just be sure it's what you really want.
If you do decide to have karaoke at your reception, these tips will help:
• Let your DJ know ahead of time. Karaoke requires different equipment, an additional music library, additional microphones and an external monitor. Be sure we reserve the necessary equipment for your event and bring it with us.
• Schedule the karaoke time. You could limit it to a few pre-selected performers or for a specific period during the reception (perhaps the last hour). As you plan, allow plenty of time for your special post-wedding activities. And remember that not everyone likes karaoke, so don't force them to endure an entire evening of it when they really wanted to be celebrating your wedding with you.
• Review the song selections with your DJ in advance. Let your DJ know what songs you consider unacceptable. You don't want a guest singing a song with lyrics other guests might find offensive.
• Set limits. Make it a maximum of one or two songs per guest – don't turn your reception into a solo concert.
• Choose a DJ with karaoke experience. It takes special skills to keep a karaoke event from bogging down and to adjust the sound to accommodate a range of singers. The DJs at Marc Burgess Productions have the experience – and the tact – you need.
These guidelines also apply if you're considering karaoke for another type of occasion, such as a holiday or birthday party or corporate event.
Are you a karaoke fan? Share your favorite karaoke story!