You want your wedding to be memorable for all the right reasons, not because of what went wrong. We all know that sometimes "stuff happens" – a member of the wedding party gets sick, a clumsy guest spills something on the bride or the weather doesn't cooperate. But the professional DJs at Marc Burgess Productions have seen plenty of ceremony and reception glitches that could have been prevented with a little thought and planning.
These 5 tips are based on our years of experience and helping couples cope with wedding disasters as professional DJs in Central Florida:
1. Make sure all your vendors have the correct times of each element of your ceremony and reception, from beginning to end.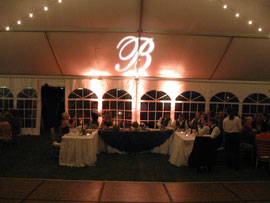 You don't want your entertainment hanging out with nothing to do waiting for your guests to arrive – nor do you want your guests hanging out with nothing to do waiting for the entertainment to arrive. And if the caterer has the food on the buffet before the ceremony begins, it's not going to taste very good by dinner time – but you don't want a bunch of hungry people waiting for the caterer to set up, either. Give every vendor the complete schedule and confirm it the week before your event.
2. Let your guests be guests – don't ask them to work.
Your guests are guests, not servers, janitors or dishwashers. If you're on a budget, talk to your caterer and the venue coordinator to see how you can most affordably get everything done without asking friends and relatives to sweep the floors or take out the trash.
Another budget mistake: Trying to save money by renting dishes, flatware and other supplies from someone other than the caterer who is providing your food. Vendors are only responsible for their own equipment; your caterer isn't going to clean dishes that belong to another rental company.
3. Order enough food.
Tell your caterer how many people you're expecting and listen when they make recommendations about how much food you'll need. Reputable caterers won't suggest more than you really need, but if you run out of an item before everyone is served, there's not much even the best of caterers can do.
4. Be sure all the key people are working off the same script.
There are a lot of moving parts to a wedding and reception – if the maid of honor and the father of the bride give conflicting instructions to ushers or musicians, you've got guaranteed chaos. Take the time at the rehearsal to make sure everyone knows what you want and will do it your way.
5. Keep your sense of humor.
Yes, you want your wedding to be perfect, but as I said at the top, "stuff happens." If it happens on your special day, a sense of humor will help you make the best of things.
What's your best tip for a perfect wedding reception?