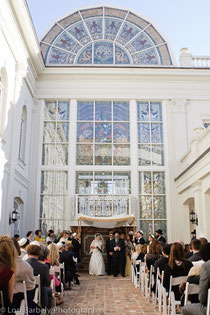 Outdoor weddings can be spectacular – but along with the stunning scenery comes an assortment of challenges you don't have with an inside venue. These tips will help make your outdoor wedding and reception as beautiful and perfect as you dreamed:
Reserve the space and get the necessary permits. Just because a park or stretch of beach is public doesn't mean it's okay to hold a wedding there – or that you can restrict the area to your guests. Check with the city parks department and/or local government to find out their requirements for events. Also ask about the rules for food and beverage service, trash removal, decorations, candle or torch lighting, music, and pre- and post-wedding photography.

Prepare for the

weather

. As a DJ in Central Florida, I know how fickle our weather can be, and summer storms can be unexpected and dangerous. No matter where you are located, you can't count on the weather cooperating. Have a backup plan so you can move your ceremony and reception quickly if you need to. And even if you're willing to stand in the rain, your guests might object – and your Central Florida DJs, photographers, videographers and caterers

are not

going to risk damaging their equipment. It doesn't matter if you're talking a drizzle or a downpour – water and electronics don't mix!

Make your guests comfortable. If it's warm, have a cooler of bottled water available before the ceremony begins. In fact, have your ushers offer water to guests as they are seated. Instead of a traditional wedding program, print yours on a fan so guests may cool themselves before and during the ceremony and have a charming keepsake to take home. Consider renting large electric fans and/or misting fans.

For daytime events, a tent will shield you and your guests from the sun. And have sunscreen on hand to offer those who may not have their own. For a daytime or sunset ceremony, consider the location of the sun so you and your guests are not squinting during the ceremony.

Finally, remember that

metal chairs can get scorching hot

in the sun. Choose wooden chairs for a daytime outdoor wedding.

Be prepared for wind. As you shop for your bridal gown and bridesmaids' dresses, think about the possibility of a brisk breeze. Look for fabrics heavy enough so that you're not worried about the wind exposing more than you intended. Choose hair styles that can tolerate wind without looking like a bad costume. Anchor tents and other decorations so they don't become airborne during the ceremony.

Make sure everyone can hear. Outdoor weddings often have to compete with the sound of the surf, traffic, wind and other nearby people and events. Ask your DJ about microphones so your guests can hear you exchange your vows.

Don't get bugged. Citronella candles, other repellents and/or bug zappers will help keep mosquitoes, gnats and other flying things at bay.


Be sure your suppliers are experienced with outdoor events. You want your wedding and reception to be memorable for all the right reasons. Choose a caterer, DJ, photographer and other suppliers who are prepared to deal with all the unexpected aspects of an outdoor event.
By the way, these tips were written with warm-weather weddings in mind, but they can also apply to winter outdoor weddings in any climate. The professional DJs at Marc Burgess Productions have year-round experience with outdoor events and we're happy to help you with yours.
Do you have a story about an outdoor wedding or a tip to share? We love comments! Just hit one of the buttons below to share.