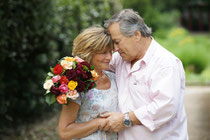 At almost half of weddings today, either the bride or the groom (and often both) have been married before. The style and tone of these encore weddings can range from very small and quiet to a celebration designed to rival the marriage of Prince William and Kate Middleton. As professional DJs in Central Florida, we believe your wedding – whether or not you've been married before – should be the special celebration you want. Here are some thoughts based on our experience.
• It's the first time for you as a couple. Though this may be your second wedding, it's the first for you as a couple, marking the beginning of your life together. It should be a reflection of who you are.
• Formal or casual – your choice. Second weddings tend to be less formal, but not always. And less formal doesn't have to mean less elegant or sophisticated. Be creative with your theme and location. Tuxedos and gowns are not essential unless you want them. Remember that nice casual attire can be stylish and beautiful—and the bonus is that you can wear those clothes again.
• Invitations and announcements. The wording of your invitations will likely be different than for a traditional first wedding. Again, be creative. And if the guest list is limited because you choose a small event, remember that you'll still want to get news of your happy event out to folks who weren't invited or able to attend the ceremony. My favorite invitation store is Write in Style in the Altamonte Mall; owners Barry and Gayle will be happen to help with any questions you may have about invitations and announcements.
• Blending the families. If you have children, consider involving them in the ceremony. Older and adult children often serve as attendants for their parents. Younger kids and even teenagers may exchange vows with their parent's new spouse during the ceremony. Reverend Jimmy Johnson of Affordable Orlando Weddings has the children say their own vows accepting the new parent and, instead of a ring, the child gets a medallion or other token commemorating the occasion. And in lieu of a traditional honeymoon, blended families may opt to celebrate the wedding with a familymoon. Let Burgess Travel Network help you plan a trip that fits your family and your budget.
• At the reception. Because of our extensive experience as DJs in Orlando, we're able to help you think of all the details that you need to remember when organizing your reception. For example, if you have very young children, you'll want to make arrangements for someone who is not in the wedding party to care for them during the party. You don't want the bride or groom to have to leave the celebration to feed a baby or change a diaper. If the new blended family will mean some interesting dynamics in terms of guests at the reception, we can help you address a wide range of special needs, from music and dance choices to maintaining space between relatives who don't get along.
If you've got any stories or ideas on Encore Weddings, please be social and share them with us